BOOK ~ Tiffany Blue by Patricia
McGraw

Having lived here in New Mexico for so long, I was excited
when a dealer in our mall brought an interesting book to my attention.
It is "Tiffany Blue" by Patricia McGraw. It tells the story of a
Victorian era turquoise mine outside my city of Albuquerque, just north
in a very small town called "Cerrillos",
and speaks of a time between 1892-1933 when the Tiffany Company bought
from a turquoise mine
there and made wonderful jewelry from it. It is a composition of
many notes and letters concerning this lovely stone.

Like many of my customers, I enjoy the Victorian jewelry using what is
often called by the generic term "Persian turquoise", a turquoise with a
sky-blue color and no matrix, and usually set using small pieces. There are examples below, and more if you click
HERE to see it
in our gallery.

What I didn't know until I read the book is that Tiffany Company did so
much in making this turquoise a prized gem stone.
VICTORIAN turquoise, diamond and
15 carat yellow gold foxtail fringed oval pendant circa 1870, total length
without loop is 2-1/3", oval alone 1-1/8" by 1", total weight about .30 ounces.
The pave-set turquoise center oval with a diamond in a star is surrounded by a
beaded edge and then a twist frame. The foxtails are graduated, a nice emphasis
to the overall design. View
View
View
View #V36868

VICTORIAN 18k yellow gold
and turquoise knot
brooch, lovely detailed design on the front and two memorial hair compartments
on the back. The knot was a Victorian symbol for unending love. This fabulous brooch
is
2-1/4" by 2-2/3".
View
View
View
View #V32572

VICTORIAN 18k yellow
gold and turquoise pierced filigree pendant with a
genuine pearl center
and a beaded edge, round portion 1" with a 5/8"
bail, tests 18k. This is just lovely and even the bail has an etched
design on it. The seller told me that this is French, but I see no marks
that would confirm that. Wherever it was made, it is circa 1880-90. View
View #V37483
Author Patricia McGraw's great grand-father, James Patrick McGraw, was
the manager and supervisor of the AMC, or American Turquoise Company,
between Cerrillos and Santa Fe. There they mined gem
quality turquoise, much of which was shipped back to the Tiffany Company
in New York City. There, Tiffany advertised and popularized the
wonderful qualities of the beautiful sky blue turquoise with no matrix.
Not all the turquoise mined there was that type, but that type was all
in which Tiffany seemed to have had an interest.
According to the web site "Durango Silver Company" (see link below)
"Cerrillos" turquoise is a very hard stone and so takes a brilliant polish. In
addition to producing a distinctive stone, the Cerrillos mine is the
oldest mine of any kind in North America".
VICTORIAN gilt locket
with Irish harp and shamrock motif in seed pearls and turquoise, etched
design on locket, charming baby
photo inside, 1-1/2".
View
View #V32236

VICTORIAN girl's
turquoise ring and gold filled thimble in original fitted box. This
would have been a lovely gift for a young girl.
View
View
View
View
View #V32850

VICTORIAN chalcedony
brooch encircled by a snake holding a pear, red and aqua rhinestones, 2".
The setting is textured rolled yellow gold, as though the snake wraps twice
around the center. While the snake was a popular Victorian jewelry motif, a
snake holding a pear is an unusual design. According to
the Wheaton College article
HERE,
"the pear was sometimes seen as the alternate fruit of the fall", but then
it is also seen as a symbol of the Virgin and Christ Child because of it's
sweetness.
View
View #V33505

VICTORIAN 1860s gold tone pencil with turquoise stones, gold
filled with a chipped amethyst top, 2-1/4" long.

View #V38876


VICTORIAN 9ct yellow gold cased propelling pencil with turquoises, with carved flower, 1-5/8".
View #V39805

VICTORIAN 9ct yellow gold cased propelling pencil with turquoises, 1-7/8".
View #V39806
VICTORIAN TURQUOISE JEWELRY
The combination of yellow gold and the gem stone turquoise was a
very popular one during the Victorian era. That isn't to say it wasn't
set in silver as well, but it does seem to me the turquoise and yellow
gold combination was most popular. According to Wikipedia, the word
"turquoise" came about when the earliest of these stones was brought
from Turkey into Europe around the 16th century. Turquoise was also was
mined in many other countries, including the US, with differences in fineness, matrix and color. More about turquoise can
be read HERE. This
stone that was used in the Victorian era jewelry is often called "Persian
Turquoise" as a more generic term, and the turquoise has a pure blue color and no matrix, as you can see in
the pieces shown here. Turquoise was a popular stone for jewelry
throughout the Victorian era and into the first third of the 20th
Century, sometimes used in combination with diamonds or seed pearls.
VICTORIAN 9ct turquoise and seed
pearls ring, heart-shaped with links band design, size 7-1/4.
View #G33103

Group of Victorian turquoise jewelry set in yellow gold.

VICTORIAN gold filled
puffy heart charm with 3 turquoises in a tiny flower shaped
etched design, 3/4" by 3/4".
View #V39871
TIFFANY BLUE
The book tells the really interesting story of
turquoise mining in New Mexico, and I enjoyed it thoroughly. Using the
first-hand letters and notebooks of her great grandfather, Patricia
weaves the man and the era together and shows how one of our favorite
stones was mined. The book covers much more than I can here, but you can
or get it from your local library.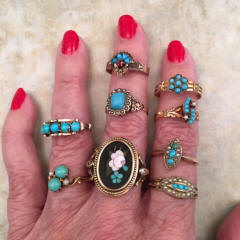 REFERENCES
by Patricia McGraw,
published by Lone Butte Press in 2006