EISENBERG JEWELRY
1935-Present
By the late Bobye Syverson,
died 2016

long time collector, dealer
and historian of Eisenberg jewelry



PHOTOS, left and center: Eisenberg
Original faux pearls and rhinestones brooch and earrings, along with
the 1946 magazine advertisement for them. On
the far right is an Eisenberg double
clip.

Note the Eisenberg scarf, which would have the Eisenberg
Original label and also state, "Spun and woven by Ponemah and executed
by Combier-Chauvin".

EISENBERG pink clip, an unusual piece.
EISENBERG JEWELRY… the name alone conjures up imagines of some the
the finest costume jewelry ever made. For the past 70-plus years, their pieces have
had a distinctive
look, a quality feel, and a fascinating history. One of Eisenberg's
biggest fans is Bobye Syverson, and she has kindly shared with us her
expertise, thoughts and pictures.
Question: What
first attracted you to Eisenberg jewelry?
Bobye: During
World War II,
I would go in the best department store in town to admire the Eisenberg
jewelry laid out on the counter. Such sparkle! These would all have
been Eisenberg Originals, of course, and my salary just did not stretch to
that kind of price. I don't remember any specific piece from that long
ago, but they must have really set up a desire in my head, so later when I
actually started buying them, I went a little nuts on the subject!
Bobye: Most jewelry collectors recognize the Eisenberg name
and have some of their pieces. There are some very SERIOUS collectors
and I try to get feedback from them. I just heard from one who says
she keeps her collection of over 300 pieces in glass-sided upright units in
her bedroom. Another collector uses his pieces in combination with
other antique smalls and clothing to create displays around his home.
My Eisenberg pieces are all in glass top boxes, or on a mannequin in the
corner of the living room.


Question:
As an
unofficial "Queen of Eisenberg", Bobye, so knowledgeable and
such a long-time fan, what Eisenberg piece do you enjoy wearing the most?

Bobye: This
one is easy, it is a big clip with pink and turquoise rhinestones and it is an Eisenberg
Original. It is my pet piece, a clip 4" tall,
and it was not a bargain–but I just had to have it, and have worn it for
years.

In those days (the 1940's), there were some
favorite rhinestone color combinations that the Eisenberg Company
would use: pink and turquoise; pink and purple; red and
turquoise; light and dark topaz; aqua and ice blue; red and crystal;
and less frequently a mix of colored stones. I have one clip that is
amethyst color rhinestones with small faux turquoise balls. Oddly
enough, I do not remember seeing the colored pieces when these were
new, just the all crystal ones.

Another favorite is the King and Queen set, shown below.
EISENBERG ORIGINAL King
and Queen pronged
clips. These are so very hard to find, and truly the royalty of Bobye's
collection. Each is 2-1/2 inches tall, and Bobye thinks they were made
just before or just after WWII, as they are not marked sterling.

BEWARE the REPRODUCTIONS
Imitation king clip from an unknown maker,
but looking very similar to the real Eisenberg King clip.
The real Eisenberg queen pin is on the right, and the fake on the left.
EISENBERG in block letters
1945-1958

EISENBERG with copyright mark
(copyright symbol used after 1955)
EISENBERG unsigned
1958-1970

EISENBERG ICE
1970-present
Bobye says, "Please keep in mind that the
Eisenberg marks tended to overlap, and all the dates given are approximate.
For instance, most of the jewelry marked with the script or block letter "E"
was produced towards the end of the 40s and into the early 50s. However,
just the initial was also used when there was limited available space on the
back of a piece for stamping. You will sometimes see pieces that are
obviously a set with one mark on a pin and a different one on the earrings.
Then there was the piece that I saw where the name "Eisenberg" was spelled "grebnesiE",
I'm serious! I know of no other jewelry that used just an E. mark.
Once in a while you will find a stamped number on an Eisenberg piece,
usually just one letter or number in a circle. It is said that some of the
stone setters etched their number into the back of pieces they made as well.

"According to my information, the 1940's ads listed "imported
stones" but I have a small ad from 1946 that calls the pieces "American Ice"
and states that the stones were made in this country. Later the same year,
the ads again mention "imported stones". I suspect that right at the end of
World War II, importing rhinestones did not have a high priority with the
shipping companies, and the Swarovski rhinestones could not be obtained."

Eisenberg did not design their own jewelry in-house. Starting
in 1940 it was designed by Ruth Kamke who worked for the manufacturer Fallon
and Kappel in New York. (She also designed for Panetta later on and for about 15
years). F&K had a mutually exclusive arrangement. Eisenberg was made only
by F&K, and F&K only made Eisenberg. That all changed in the mid-1970s when
F&K suddenly closed. After that it is difficult to determine who designed
what.
MORE EISENBERG INFORMATION:

Who was RUTH KAMKE? Just the most important designer for
Eisenberg! She designed jewelry for them for well over 32 years.

In her last year of high school, Ruth began putting together a portfolio
of her own designs. In the corner of each design she sketched a piece of
jewelry that would compliment the garment. When she saw an ad for
a person needed to work for Fallon and Kappel, a leading jewelry
manufacturer, she applied and was hired for $12 a week.

Later on the Eisenberg Company bought exclusively from F&K, and
they in turn
they manufactured only for Eisenberg. The initial or number found
on the back of the Eisenberg Original jewelry indicated who had
set the stones. Ruth created almost all of the Eisenberg Originals made
after 1939, and also the Eisenberg Ice until 1972. She designed
literally thousands of pieces.

Suddenly in 1972, the manufacturers announced they were closing in two
weeks! Large trash barrels were used and every thing was dumped in them.
Nothing was spared, including Ruth's designs. A wonderful part of
history was destroyed. (NOTE from Jane, "I have heard this same story
about other manufacturers as well, the wholesale dumping of both
materials and information when a jewelry company closed. Larry Vrba said
the same thing happened at Miriam Haskell at one point for instance, too).

EISENBERG ORIGINAL, 1940's

EISENBERG "Puss in Boots"
EISENBERG "Piggy Goes to Market"
A fur clip of a pig dressed in a bonnet and shawl, with a basket
full of flowers on a spring hanging from
one
arm, 3-1/2". Marked Eisenberg Original and designed in 1941.
View
View
View
View
Ruth Kamke, the head designer for Eisenberg from about 1940-1972,
clearly remembers the "Piggy" piece. Ruth's first designs were originally
done for the Eaves Costume Company, dressing a
Broadway show. Eaves was located in the same building as F&K, who actually
manufactured the Eisenberg jewelry. "Piggy" was done for Eaves, but sold as
an Eisenberg Original.
Eisenberg bow brooch in it's original box.

EISENBERG Original gold
tone large bow brooch with clear rhinestones in original box, 3-5/8". Stones
are graying somewhat, but it is still lovely and very wearable.
View
View #E26187

Back with gold-washed finish and Eisenberg
Original mark.
The word "Original" was applied
to the Eisenberg clothing line in the beginning and only later, in about
1938, was it applied to the
jewelry.
EISENBERG sterling fur
clip and earrings with foiled and unfoiled clear rhinestones, gilt setting,
circa 1940s, clip
2-1/3" and screw back earrings 3/4".
View View
View #E37196


EISENBERG NECKLACE a large collar in crystal clear rhinestones. (This
necklace can be seen in the background of the photograph of Karl Eisenberg
which appears later in this article).

EISENBERG
ORIGINAL pin/clip "grapes" brooch set in heavy gold plate.
Ruth Kamke also validated the fact that Eisenberg used signatures of both
the scroll "E" and the block "E", but not every "E" mark
is necessarily by Eisenberg.
EISENBERG ORIGINAL 1950

EISENBERG
Original clear rhinestone invisible front-fastening bracelet, 7″ by 1-1/4″.
View View
View #E22990

EISENBERG ORIGINALS 1947 Vogue
EISENBERG ORIGINAL gold tone
clear rhinestone and artificial pearl dress clip, huge at 4" by 3-1/3".
View
View #E61502

CLIP
which is signed only "U", but in Barbara Wood's opinion, it
is an Eisenberg. The dimensions open are 5-1/2". Whatever is it
it's gorgeous.
View
EISENBERG Original clear rhinestone dress clip,
circa 1940, 3-1/4". In the stylized shape of a bunch of grapes,
this has all the brilliance Eisenberg is know for.
View #E62429

EISENBERG Original aqua glass nuggets dress clip
with clear rhinestones all set in gold tone, circa 1940, 2-7/8" by 2".
View
#E62428

EISENBERG Original gold tone
horse brooch with star-set clear rhinestones, red enameled hooves, light
finish wear consistent with it's age, 3" by 2".
View #E34363
EISENBERG ORIGINAL
Made in Mexico sterling brooches.


RING, not signed but obviously made at the same time according to
Bobye. Made in Mexico

EISENBERG ORIGINAL
sterling Made in Mexico, unusual 2-1/2 by 2-1/4" brooch.
Courtesy of Barbara Wood.
EISENBERG ORIGINAL
dress ad, circa 1940.

EISENBERG ORIGINAL
scarf ad from 1945 and actual Eisenberg scarf. It is interesting to remember that Eisenberg made
clothing as well as jewelry in the early days. The Eisenberg scarf would
have the "Eisenberg Original" label and also state, "Spun and woven by Ponemah and
executed by Combier-Chauvin".

EISENBERG
Harper's Bazaar 1948
EISENBERG
ORIGINAL enameled and rhinestone leaf fur clip.
View #E15632

EISENBERG ORIGINALS 1944
Harper's Bazaar

EISENBERG in a rare color… peach, not pink.
EISENBERG Original pink
enameled floral fur clip with blue and clear rhinestones.

EISENBERG ORIGINAL
aqua glass beads and rhinestones 4-1/4" dress clip.

EISENBERG ORIGINAL One of the few pieces marked Original using
multi-color stones.
EISENBERG Original glass
dangles dress clip with aqua, blue, green and pink glass petals and imitation
pearls strung on brass chain, circa 1940, a nice large 4-1/3". I
am fondest of the more unusual 1940s pieces that the Eisenberg Company made,
and this is one if them. View
View
#E37173

EISENBERG ORIGINAL clip… This is heavy for the small size of the
clip.

EISENBERG ORIGINAL
green beads clip. The clip is set sideways across the two two stones.
EISENBERG ORIGINAL
bracelet and the original 1946 AD,
in which it is pictured at the bottom left.

I collect the old ads for the
Eisenberg jewelry and they are wonderful for helping to date when a piece
was made. I have gotten several pieces just because they
are ones shown in an ad. Some of the language used in the ads is
just as sparkly as the jewelry! Here is a quotation from a 1940
ad–"Jewelry of the future, as clear cut and dazzling as an iceberg
in sunlight."

EISENBERG flower pin
as shown in the 1946 advertisement at the left.
EISENBERG
ORIGINAL brooch. I have seen this one with a brown center oval and
with green center as well. I am told it is Bakelite.

EISENBERG ORIGINAL clips…
the only ones I ever found joined by chains.

EISENBERG ORIGINAL brooch.
Most of the pieces with crystal stones are in silver metal mountings, but
here is a gold colored clip!
EISENBERG ORIGINAL
clip. This is one of a pair of clips. The other one is a mirror image of
this one, and I have seen a picture of the two of them.

EISENBERG FAUX PEARLS
This piece is unmarked, however, the identical one was on ebay, and the
seller was good enough to send me good scans of the marks on the back.
I printed them for verification.

EISENBERG ORIGINAL sew-on piece,
with no pin back.
EISENBERG
Original sew-on 2-1/4 inch clips with no prongs.

EISENBERG
FLOWER HOLDER brooch, a unique piece which is a little over 1-1/2 inches high
and has both a clip and a pin back. The ad is from 1949.

EISENBERG Original brooch.
FLORAL
brooch in clear rhinestone and faux pearls, unsigned, circa 1940's.
View
#Y5479

EISENBERG Original floral brooch,
signed, same as brooch shown at left.
View
View

Signature.
Brenda Nurenberg has a gorgeous
Eisenberg Fur clip,
shown above, that she later found a picture of in a 1937 Harper's Bazaar
Magazine….

…However, in the
magazine, the fur clip is
done in precious diamonds, sapphires and a huge aquamarine. It was designed
by Black Frost Star and Gorham.
This is a great example of how costume jewelry emulated fine jewelry.

EISENBERG
bracelets with original hang tags, each with a different price… the top at
$180.00, and the bottom at $40.00!
EISENBERG ORIGINAL
"This is so heavy it could be hard to wear. It is a 4 x 2-1/2" pin."
Courtesy of Barbara Wood.
EISENBERG
ORIGINAL mermaid brooch shown in a 1946 ad. I like the mermaid with
blue beads even better!
EISENBERG mermaid brooch, picture courtesy of Debbie Goodwyn of Goodwyn Antiques.
View

Note from Jane: This "mermaid" brooch was made in real gold with opals,
pearls and diamonds by the Verdure Company, who called it a "Naiad
Clip". When it was new in the 1940's, it sold for $2,500! The
advertisement for it can be seen in the wonderful book, "American
Costume Jewelry" by Brunialti.

Bobye: Some of the older Eisenberg advertisements are fun to
read:

"Eisenberg
Ice to melt her heart….to enthrall her….to enslave her…. reduce her
resistance completely! On Valentine's Day, crystal or colored
stones, big and bright as a Sultan's treasure."

"Glowing enchantment….imported original stones, each with a
fiery blaze of splendor frozen at its heart."

"The lavish look…richly designed, brilliant with icy fire, crafted
and hand-set like precious gems….to fulfill your love of luxury."

"Sun-sparkled brilliance that sings of flowers—-"

"Beautiful, blinding blaze of splendor gem-set like the world's
greatest jewels in a new model of rippling glitter."

"Matchless magnificence, startlingly opulent—"

"Clusters of icy brilliance, shimmering like frozen fire."
EISENBERG BIRD
brooch.

EISENBERG Original exotic man
holding a cornucopia fur clip with green rhinestones set in gold tone, marked
"Eisenberg Original" on the back and designed by Ruth Kamke circa 1940, 4". This
piece can be seen in the book "American Costume Jewelry: Art & Industry Volume
1" on page 174, where it is called "Egyptian".
View
View #E36881

EISENBERG Original gold tone
horse brooch with star-set clear rhinestones, red enameled hooves, light
finish wear consistent with it's age, 3" by 2". This can be
seen in Brunialti's "American Costume Jewelry, Art & Industry" on page
176.
View #E34363

There is a little mystery about the bird brooch on the left above. It is sterling and
not very big. On ebay, I once spotted one just like it but the whole
thing was reversed with the bird facing the other way. I wrote the
seller to ask if the picture was reversed and she assured me that it was
not. Maybe made as a pair to be worn together? I know that
there are a pair of the fighting cocks pins (I have only one of them.)
The Eisenberg Company also made some pairs that they called "Twin
Pins".

EISENBERG larger eagle brooch.

Maidenform ad from December 1951 showing the model wearing red,
white and blue with the Eisenberg eagle brooch at her waist.

EISENBERG Original small
eagle brooch, about 2 1/4" across.
EISENBERG ORIGINAL STERLING 1940's
signed clip, 2" high, 3.75 " wide.
Courtesy of Frances Cavaricci at Franca's
Collection

Actress Thelma Ritter in the 1953 movie "Titanic". She is wearing the
Eisenberg eagle brooch as a necklace in this photo.

EISENBERG Iconic eagle brooch
circa 1950, 2-1/4" by 2-1/4". There is some finish missing on left wing on
the back, not visible from the front, and some stones are very slightly
graying, so priced accordingly.
View #E36307
EISENBERG unsigned
butterfly double clip which pivots in the middle, 4".

EISENBERG ORIGINAL sterling vermeil fish brooch with faux pearls and
rhinestones, circa 1944, 2-1/2". This is the same piece seen in
Christie Romero's "Warman's Jewelry", 3rd Ed, page 193. The same style
brooch. is also in Brunialti's
"American Costume Jewelry, Art & Industry" on page 176,
where they say it was designed by Roth Kamke and manufactured for
Eisenberg by Fallon & Kappel.
View
View
View #E21240

EISENBERG dancer
brooch, 3-1/4" by 2-1/2". It is sterling and circa 1944.
Courtesy of Barbara Wood.

EISENBERG STERLING 1943-48
EISENBERG STERLING
brooch. Pink and purple stones together were something that the Eisenberg
Company really liked to do.

EISENBERG "Topaz Quartz" 1943
Vogue Magazine
Showing the bow pin at right >>>

EISENBERG ORIGINAL sterling
with gold wash bow pin and sterling vermeil screw back earrings with
yellow faceted unfoiled stones, circa 1943, brooch 2-7/8" by 2-1/3"
earrings 1". The single center stone was called a "topaz quartz" by the
company. These bows are numbered.
View #E35751

Only once did the Eisenberg Company work in 14kt gold. In
1944, there was an ad for earrings and a ring in set in14kt gold set with Citrines (aka
Topaz Quartz). The bow pin that went with them is gold washed
sterling, shown above.
EISENBERG
Original sterling brooch. This looks delicate, but is sterling and heavy.

EISENBERG STERLING flowers
brooch. I have seen this design on ebay with green stones.

EISENBERG Original
sterling brooch. Love the way the big stone is set!
Bobye: The
Company made the Sterling pieces from late 1943 until mid 1948.
In 1944 when
Eisenberg made the only pieces they ever
produced in 14kt. gold, there were rings and earrings. There
is a fascinating rumor about diamonds being smuggled into this country,
during WW2, set in their jewelry, and assumed to be rhinestones, but I
can't verify that one!

EISENBERG & EISENBERG ICE 1950-60's
EISENBERG 1951 advertisement.
EISENBERG ORIGINAL
"red wires" brooch shown at the bottom left of the ad.
EISENBERG 1951 advertisement.
EISENBERG
"Fireworks" brooch shown at the bottom right of the ad.
EISENBERG OVALS Marked "Eisenberg" I found one of very
similar design in a 1948 ad.
EISENBERG pendant with the
"E" mark, circa late 40's to early 50's.

EISENBERG 3" clear rhinestones brooch.
View # E20290
EISENBERG
clear rhinestone 2-5/8 inch brooch and clip back earrings in the original
box. The brooch is marked "5292" on the back. VIEW
VIEW

EISENBERG ICE
6-1/2 inch clear rhinestone bracelet in the original box. VIEW
VIEW VIEW

EISENBERG ICE
clear rhinestone 7 inch bracelet with terrific sparkle.

Bobye: The story of how I got connected to the Company and
started carrying their contemporary jewelry is a bit odd.
About 20 years ago, I was in a gift shop in a small tourist town and
noticed a case of jewelry with the Eisenberg name on it. I didn't
even know that they were still in business, and had a nice visit about
that with the store owner. A short time later, I got a phone call
from someone who said that he was Karl Eisenberg and he understood I was
interested in his jewelry. At that point, I had a shop so I said
"just send me a couple of hundred dollars worth" and he
did!!!

It really was Karl, and we had a happy business
relationship ever since.
EISENBERG ICE butterfly pin. Also made in
pink/purple and aqua/blue.

EISENBERG ICE dragonfly brooch, date unknown.
EISENBERG ICE
set. When this Ice set was made the necklace was $98, and the earrings $95.
EISENBERG brooches
"The Regal Touch"
Harper's 1969
Courtesy of Evelyn Yallen
EISENBERG 1-3/4"
crown pin, shown in ad at right, circa 1969. View
#E4868
EISENBERG rings
"The Elegant Touch"
Harper's 1969
Courtesy of Evelyn Yallen
EISENBERG ICE
"Glittering Jewels of a Glittering Season"
Vogue 1968
EISENBERG clear rhinestones
wreath brooch, 2" with the block signature.
View #E23642
EISENBERG bracelets
"The Brilliant Touch"
Harper's 1969
Courtesy of Evelyn Yallen
EISENBERG MIRROR
to put on lipstick, marked Eisenberg Ice with a US patent number on
the back, and Eisenberg Original on the inside of the soft satin lined
pouch.
EISENBERG ORIGINAL
compact and cigarette case.
EISENBERG tie clasp!
View
MULTI COLORED brooch, done in the 80's, I think the designs that were part of this group
were the most underrated pieces the Eisenberg Company ever did.
There are also butterflies done like this and they came in three different color
combinations.

EISENBERG NECKLACE in blue and clear rhinestones.
EISENBERG INVERTED
rhinestones brooch… the only piece of Eisenberg that I ever saw with
inverted stones. This one was made in the 80's and had matching
earrings, which I foolishly did not get
.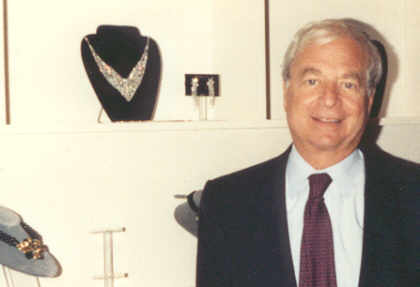 Question: Tell us
about Karl Eisenberg. He is such a delight on the phone, but I have never
had the pleasure of meeting him in person. (Note: Karl currently runs
Eisenberg Jewelry, and is the grandson of
Jonas Eisenberg, who founded the company.)

Bobye: Karl
Eisenberg is a completely charming man. It came as a surprise to him when
people started collecting his family's old jewelry, and he told me
he had to buy some pieces in an antique store! Like many others in a
family business, it is my belief that he was less interested in the
product than in the business it generated.
EISENBERG
brooch from the "Artist Series" of the 1970's. The tag says, "Hand
Painted, 18k gold electroplate".
MORE of the
"Artist Series" from the 70's

EISENBERG SAMPLES
Bobye: I formerly had a terrific sales rep who sold them to me.
Classic Sample bow
pin from 1994.
This one was never
produced, and neither were the two other samples shown here. VIEW
Classic sample red pin.
VIEW
Classic sample crystal pin.

EISENBERG CHRISTMAS TREES
EISENBERG
brooch, the Classic 3 inch Christmas Tree 1994 Limited Edition (no
longer available). It is one of the rarest Christmas tree pins and is 3"
tall. The stones are all navette aurora borealis. There were only two colors
made (the difference is VERY subtle), and there were 80 of each color for
WORLD distribution.
Eisenberg Christmas tree
brooches.
Many of the Eisenberg Christmas tree brooches are beautiful, but they
do use the same designs year
after
year, with maybe a couple of new ones only occasionally.
They range in price from about $8 to $75.
EISENBERG 1994 brooches were made as revival copies of some of their designs from the
1940's. This blue brooch is being done again in the Classic 2000 series. VIEW
VIEW
VIEW
EISENBERG CLASSIC dolphins from my 1994 collection. I
have not yet seen it in the 2000 collection.
This brooch is pictured on the cover of "COLLECTOR'S
COMPASS JEWELRY" by Judith Katz-Schwartz. This wonderful
informative new book is a reference must, and it can be ordered at TWIN
BROOKS from Judith herself!
| | | |
| --- | --- | --- |
| | | |
Bobye: In 2000, Eisenberg
was producing their "Classic
Series 2000", copies of some of their designs from the 1940's. The 2000 series are just like the 1994 ones, except the one
they call the wreath was done in gold in the first series and I liked that
one better.

I thought when I heard about the "new" classics that
they would be different from the 1994 pieces. There certainly would have been
plenty of other designs from which to choose.

The 2000 Classics are now available, and while I have no idea how
many are being made, but I know that the Company ran out of some of the
1994 ones very quickly. The designs of both of the sets of Classics seem
to be just alike, except for the metal color of the one they are calling
the "wreath". However,
there are only 7 Classics for 2000 and there were at least 18 in 1994, and
some of them were made in more than one color of stones.

All jewelry that Eisenberg makes now is stamped with their name, so
there is no contemporary unsigned Eisenberg.
EISENBERG ORIGINAL
faux turquoise and red rhinestone brooch. The signature looks authentic,
and the brooch looks a lot like some pieces I have that were made in
Mexico in the 40s. They all have a "home made" look.
Backs
views of both brooches. The triangle-shape one has a pin stem so thin
that it could only be pushed through a piece of net! It is not even as
thick as a ordinary straight pin. The mark is low and in the middle. The
other one is marked on the clip.
EISENBERG
ORIGINAL faux turquoise and coral and purple glass beads This also
looks like those that were made in Mexico in the 40s.
EISENBERG
unsigned pink poured glass dress clip, 2-3/4" by 2-1/8". #E24877

EISENBERG
unsigned pink poured glass dress clips, set of two 1-1/3" by 2-1/2", larger one
is 2-3/4" by 2-1/8". View
#E24877 and #E24876

EISENBERG ORIGINAL
2-3/4" by 2-1/2" clip. Courtesy of Barbara Wood, who says, "This is so strange. There is a
necklace to match, too."
| | | |
| --- | --- | --- |
| | | |
EISENBERG unsigned
green cabochon, blue glass disks and clear rhinestones oval 3-1/8" dress clip.
View
View #E23175

This set might be of
interest because of its textured finish. Some have questioned the
authenticity of pieces that look like this. I can document this one,
marked Eisenberg
Ice and shown in an old magazine ad for 1963. I thought the use
of the black diamond color rhinestones made these pieces more subtle too.
The pin is about 2" high.
EISENBERG pendant with
glass "opal" center and purple and clear rhinestone accents. Bobye says, "It
is a new one on me, so I would be guessing about dating it. It is NOT in
any of the old ads. The mark should be from the very late 40's to mid
50's ". View
View
Eisenberg unsigned leopard about 2" tall with a movable tail.
(Note from Jane: I have seen this marked as Florenza, and also saw it in
the early 90's at Dallas market in a booth specializing in knock-offs!)
Eisenberg unsigned Deco-style brooch, 2 3/4" long.
Eisenberg unsigned bow brooch, not quite 3"
long
Bobye Says:
All of these are unsigned pieces of Eisenberg. Not
only are these on the original cards, but I have the invoices from when I
bought them from the company in the late 70s. They were not marking
anything and I ranted and raved about it! I was told that all they
needed was the original card or a hang tag. Oh sure!
Eisenberg unsigned pheasant brooch, 2 1/4" long
enamel and rhinestones.
Eisenberg unsigned circus elephant, about 1 1/2" tall.
Eisenberg unsigned butterfly pin about 2 inches across. This was made in
several different colors of enamel.
Eisenberg unsigned enamel and rhinestones fish
brooch, 2-1/2" fins to tail.
Eisenberg unsigned wonderful 4 1/2" contoured bow tie pin.
EISENBERG
ORIGINAL reproduction One of my favorite reproductions. The
original one is slightly smaller and is a clip. This one is slightly
more than 3 1/2 inch each way.
EISENBERG
ORIGINAL REPRODUCTION red cabochon vase brooch. Back
View
EISENBERG
BALLERINAS The one with the green stones is the old one,
and is sterling. Much of
her gold and enamel has worn off. The one on the right is a reproduction.
EISENBERG is being heavily reproduced. Bobye shares some
of her "real vs fake" photos here.

Bobye: As far as the
reproductions are concerned, some of them are far better than others.
There does not seem to have been a real effort to duplicate the pieces
exactly (thank goodness!). Most of them are just slightly "off", the
size is not the same, the gold is too bright, the enamel is the wrong
kind, the rhinestone colors were not used in originals etc.
However, they do often use Swarovski rhinestones. The longer these
reproductions are being made though, the more like the original pieces
some have become, so beware.
EISENBERG scrolls
brooch… the red one is the real thing, and the aqua is a reproduction.
EISENBERG fern brooch In
this case, the red is the reproduction and the aqua is real.
In the late 1990s large
parrot 6-1/2" brooch showed up on ebay with the Eisenberg Original mark.
It is a
design that was NEVER made by the Company, it is a 1990's reproduction.
Bobye: A reproduction bearing the Eisenberg Original logo was produced in
ruby aurora borealis that was so beautiful that I bought an outfit to wear it
with.
EISENBERG 'buds" brooch. Only
the clear rhinestone brooch on the left is real.